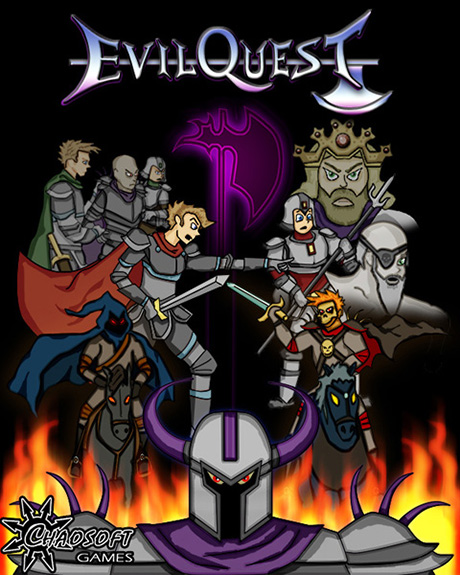 The Game:

Why save the world when you can conquer it? In EvilQuest, take on the role of Galvis — a dark knight obsessed with ultimate power. Set out on a quest of revenge,destruction and conquest in this exciting retro Action RPG title for Xbox Live Indie Games and Windows PC on Steam, Desura, Indievania, and Indie Game Stand. Along the way you'll unlock ancient mysteries, discover legendary weapons, relics and magic…and of course kill thousands of those foolish enough to stand in your way!
EvilQuest features a wide variety of environments, enemies, and boss creatures – all created in retro style with 100% original artwork, animation, and music. In addition to fighting monsters, Galvis will also terrorize the residents of several towns and must avoid imperial agents seeking to re-capture him.
The goal of the game is for Galvis to take revenge on his captors as well as unlock the secret power of four legendary seals. Players will find a variety of weapons, items, and magic spells to increase their power as they play through the quest. The game also allows the player to customize areas of proficiency during level-ups by assigning points to particular attributes.
---

Key Features:

dark and genre-defying dialogue and story
Fast-paced action-RPG gameplay
retro-style original graphics
original musical score
game world full of mysteries and twists to explore
multiple levels of melee attack through weapon charging system
15 unique dungeon levels and overworld areas
14 different spells with a variety of purposes and effects
10 challenging boss fights
Dozens of pieces of equipment and items to discover
---
08/04/2011 Prison / Pyramid / Ice Cave
08/12/2011 Water Cave / Volcano
08/25/2011 Castle / Mountain / Battlefield